It's been a while since I've turned wrenches on a Malibu, but that changed today. My son and I started on his Malibu. He's just turned 15 and is really itching to get it done. This Malibu was given to him by my Dad. My Dad had it painted, re-did the interior and new weather stripping. He drove if for a couple years and parked it outside his house for a couple years. He then gave it to my son. So, we've got a pretty good base to start with. Stock 305/TH350.
For those that don't know, I'll give a quick run-down on the plans we have for this project.
*Install 5.3L/4L65E from late model GM truck platform. Around 300hp.
*Maintain EFI using stock computer setup.
*Change Interior Color.
*Install Bucket seats
*Install Console with shifter. Haven't decided if I want to use a G-body console or get a later model out of something else (maybe a F-body).
*Replace 2.41 gears with 3.23 gears (this is going to be plenty fast for a 16 year old)!!
*Change wheels and tires (probably 17").
Of course, I'm taking pictures and documenting the whole process. We didn't get too much accomplished today, I need to get my engine hoist from my Dad's shop, and it's behind a ton of junk, so we just got everything ready to start the engine pull today. It's ready, so I gotta' get the engine hoist now. So, without further delay, here's some pictures from today's activities: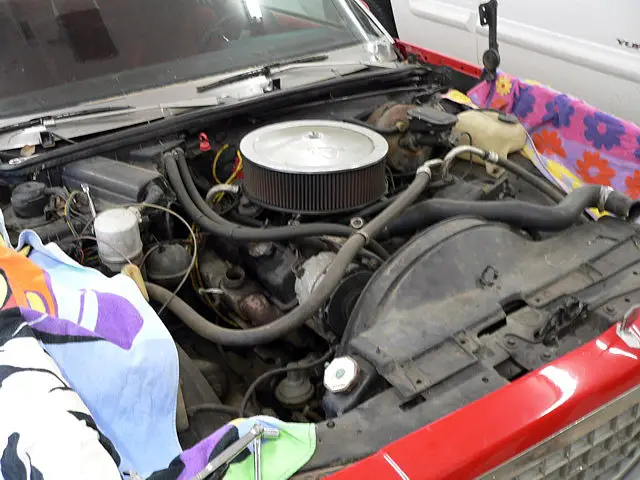 Shot of the lowly 305. It's a smoking, weak turd that's about to get yanked and replaced by 5.3L LS1.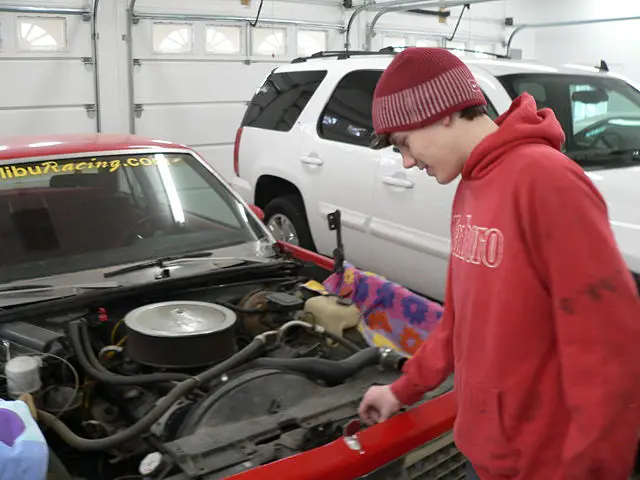 A shot of my son. I just took this picture to aggrevate him, he doesn't like his picture taken.... How 'ya like those slick fender covers??? :lol: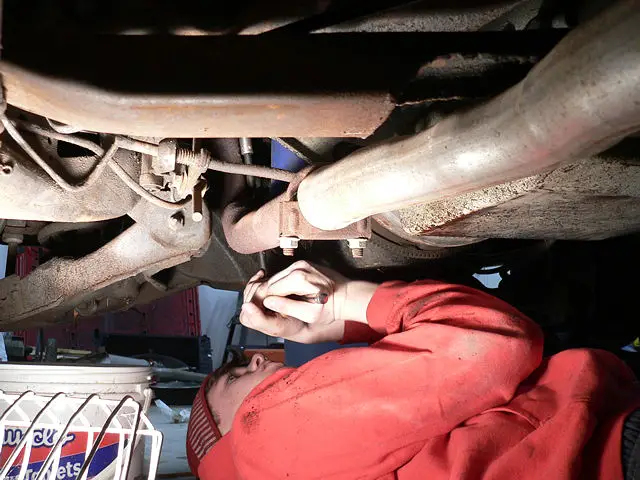 Here's Josh dropping the old exhaust. Notice the "hack" job done on the crossmember to get dual exhaust. This was done by a local exhaust shop that my Dad had install on the car when it belonged to him. The exhuast looks to be 2" with turbo type mufflers with turn downs before the axle.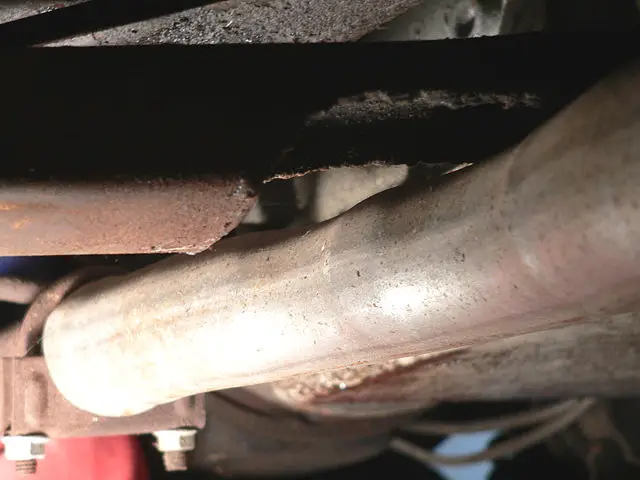 Close up of the creative notching of the crossmember. :roll: This will go into the junk pile and be replaced with a lightweight Ice-member.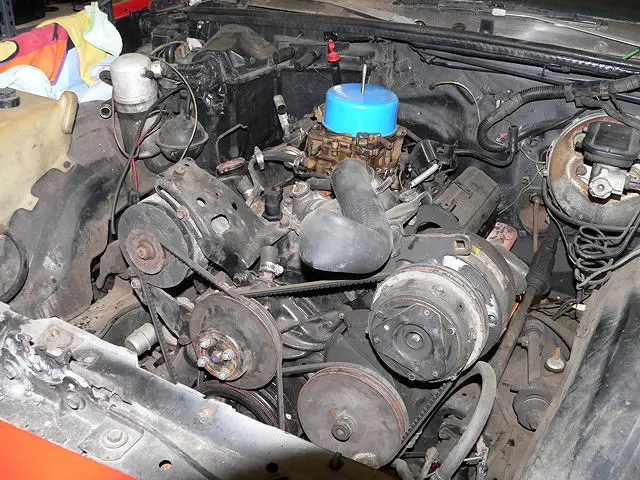 Another shot of the tired ole' 305.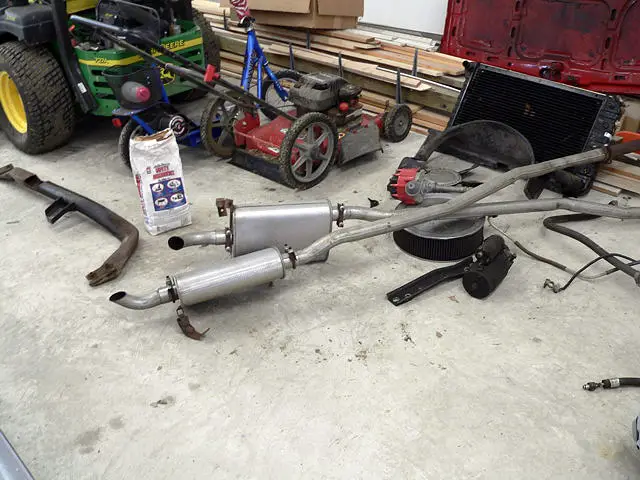 This is the pile of stuff removed in preparation for the engine removal.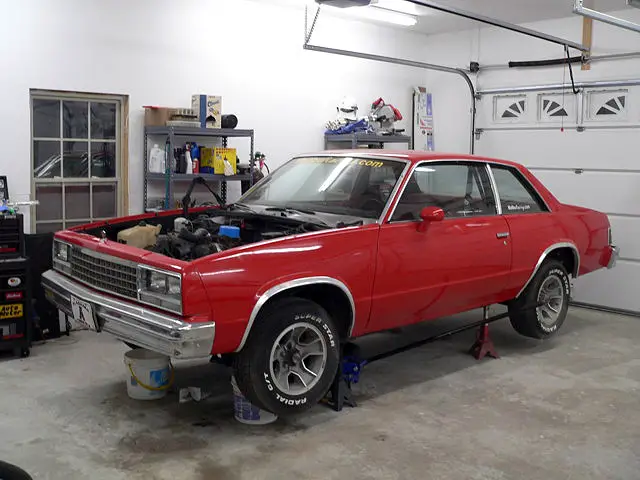 We're official members of the "Jackstand Club"!!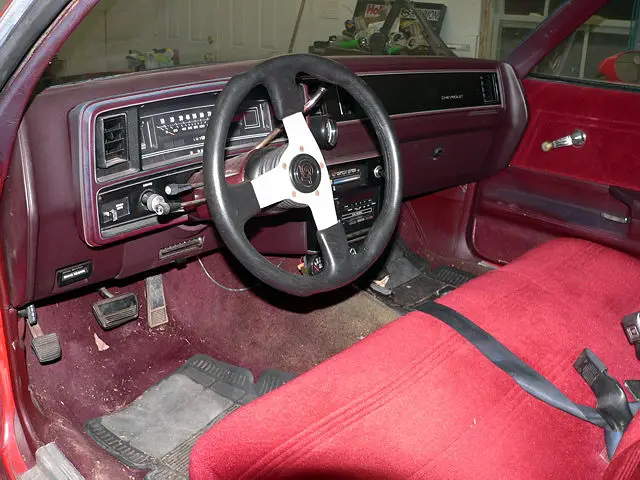 The best part of the interior is the pristine dash from a Monte Carlo that was installed. Notice the "pimp red" door and seat coverings. We haven't decided on an interior color. My son says he likes black. We may go with that.... :-k Plans are to change interior color, remove the bench seat, install buckets and a console with shifter and replace some crusty plastic molding.
OK, that's it for the first installment. Next step is pulling the motor and transmission. Stay tuned as we continue this project. We're hoping to have this all finished before his 16th birthday in October.
I need to locate some parts. First on the priority list is the 5.3L/4L65E with computer and all supporting equipment possible. Also, trying to decide the best route on fuel pump. I'm thinking about getting a Monte Carlo or Buick Regal gas tank with in-tank fuel pump. Also need to get some software to tune and remove VATS and correct tire size/gear ratio information. After that, we'll start on the interior.
'Til next time......