I plan on making some good progress this week. My wife is out of town on business. My kids are gone to Church Summer Camp. Even though my son is gone, he asked that I work on it anyways. We're getting very close to the October 14th deadline that I set, so I need to get going!
I installed the tank last night after getting all the plumbing fittings and hoses. I used the stock 3/8" steel line as the supply and the 5/16" steel vent line as the return. As you can see in the picture below, the sending unit has 3 connections the one on the left is the supply line. The middle is the return and the one on the right is the vent line.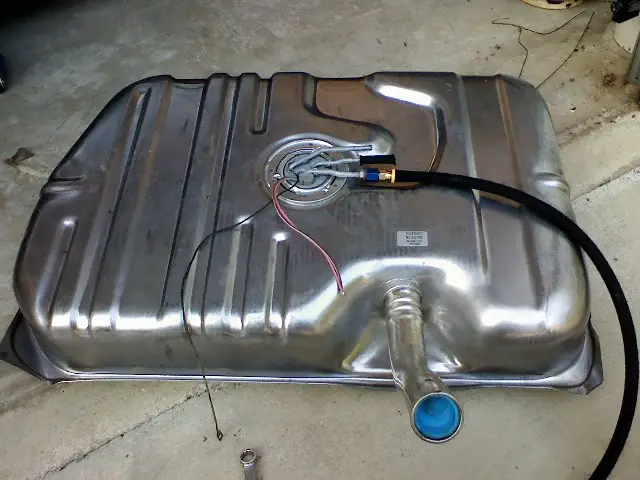 Close-up of the sending unit/pump assembly:
Pink wire is the sending unit. Brown wire is the fuel pump. Black is ground. I had to go to a funeral last night, so I didn't have time to take more pictures of the install. I will try to get more detailed pictures of how I plumbed everything this evening and update this post. Until next time.....
Next step(s):
* Do some more engine clean-up/paint touch up and re-install intake.
* Re-assemble heater box (because I repaired damage with fiberglass patchwork and replaced heater core while I was at it).
* Begin on engine wiring harness.